Can sports help combat violence?
1st World Summit on Ethics in Sports calls for action 
In a trailblazing intervention at the FIFA headquarters in Zurich, the World Forum for Ethics in Business convened the 1st World Summit on Ethics in Sports. Global stakeholders not only discussed on governance challenges in sports but also emphasized on the important values sports promotes and the enormous potential sports has to solve social problems.
The current governance challenges in sports and in particular in soccer absorbed much attention at the 1st World Summit on Ethics in Sports that took place on 19th September 2014 in Zurich.
Participants and speakers agreed that the commercialization in sports threatens to overshadow the values that sports transports. In workshops and panel discussions solutions for protection of the purity and integrity of sports were discussed. "It is about finding the balance between virtue and addiction for fame, success and money", emphasized Brazilian swim legend and multiple Olympic medal winner Gustavo Borges, one of the 57 world-leaders and sports-stars speaking at the Summit.
WFEB Founder Sri Sri Ravi Shankar pointed out, that sports, if governed in the right way, 'can be a very important instrument to create peace in places where inter-cultural conflicts prevail.'
Slovenia's former Prime Minister and current MEP Alojz Peterle urged on the true meaning of sportsmanship, 'We will always have winners and losers in sports but we should not have victims.'
"Sports stands for personal excellence, for perseverance, intense resilience, teamwork, leadership, solidarity, health, well being and respect for all, said Rajita Kulkarni, President of the World Forum for Ethics in Business in her opening speech. 'Where politics might not always succeed, sports has the power to unite the world in many ways, cutting across language, culture and religion. business, politics and society can learn from the great values sports promotes.'
FIFA President Joseph Blatter shared that 'FIFA is the only sports organization which has this independent body for ethics, nobody else, not even the IOC (International Olympic Committee).'
However, the speeches of Hans-Joachim Eckert, Chairman of the adjudicatory chamber of FIFA's independent Ethics Committee, and Michael J. Garcia, Chairman of the investigatory chamber of FIFA's independent Ethics Committee indicated, that final clarity concerning the investigations on the Qatar 2022 World Cup can only be expected towards the end of 2014.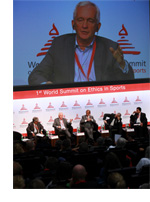 The WSES featured a mix of keynote addresses and breakout sessions to enrich participants' overall knowledge and experience and to identify concrete action steps to tackle current shortcomings in ethics in sports.
Further speakers included amongst others World Bank's Vice-President Dr. Sanjay Pradhan, Luis Moreno Ocampo – First Prosecutor of the International Criminal Court, David Walsh – Award Winning Sports Journalist, Chief Sports Writer of The Sunday Times; Christoph Daum – International Football Manager, Stanislas Frossard – Executive Secretary, Enlarged Partial Agreement on Sport, Council of Europe and renowned sports stars like Katarina Witt, Sven Hannawald, Alain Sutter and Brazilian multiple Olympic medalist Gustavo Borges.
Amongst a total of 55 speakers, a number of NGO representatives like Sylvia Schenk, Senior Advisor for Sport at Transparency International and Manon Schick, Amnesty International's Swiss Head.
To honor true sportsmanship and showcase the values sports promotes, the World Summit awarded three Ethics in Sports Awards. In a moving ceremony, more than 300 delegates from 35 countries applauded the winners in the category Outstanding Team, the Team Tvillig, Peder and Steen Mondrup from Denmark. Peder Mondrup is the first athlete with cerebral palsy to complete an Ironman contest with his twin brother Steen. World famous figure skating icon and two times Olympic winner Katarina Witt won the title for the outstanding individual for her sportsmanship and service to society. The Johann Cruyff Foundation was awarded the title outstanding organization for the long lasting work in the field of education through sport.